Here at Sussex Crafts Miniatures, we get lots of customers asking us about our Door Knockers. With so many designs to choose from, we put a handy guide together so you can decide which knocker is right for your front door.
The Lion Door Knocker
Lion Head door knockers became very popular in the early 19th century, and remains a favourite even to this day. However, it's origins are rooted much deeper in history. Symbolising bravery, protection, strength, and nobility, the earliest example of this beautiful heraldry can be found at Durham Cathedral in England amongst wonderful intricate carvings of mythical creatures.
Available to purchase already finished as burnished black or gilded, the Lion Door Knockers can be found in the Hardware and Fittings section of the website for just £3.84
Burnished black finish is available for most of our Hardware and Fittings, including our door knockers. Add an incredibly detailed finish to your dolls house exterior that's sure to impress the neighbours!
Urn Door Knockers
Urn Door Knockers first appeared in Great Britain towards the end of the Georgian period, when brass fixtures popularity soared.
The Urn Door Knocker is a compact design with timeless appeal. Suited to both period and modern dolls houses, this door knocker gets its name from the Greek urn-shaped style. Available only in gilded finish to look as authentic as possible, it can be found in our Hardware & Fittings section of the website for only £4.32
The Larkfield Door Knocker
Not many designs can be traced right back to their origins. One exception is the Larkfield Door Knocker, who's roots can be traced right back to the village of Larkfield in Kent, Great Britain. Sadly it's story and founding designer are shrouded in mystery.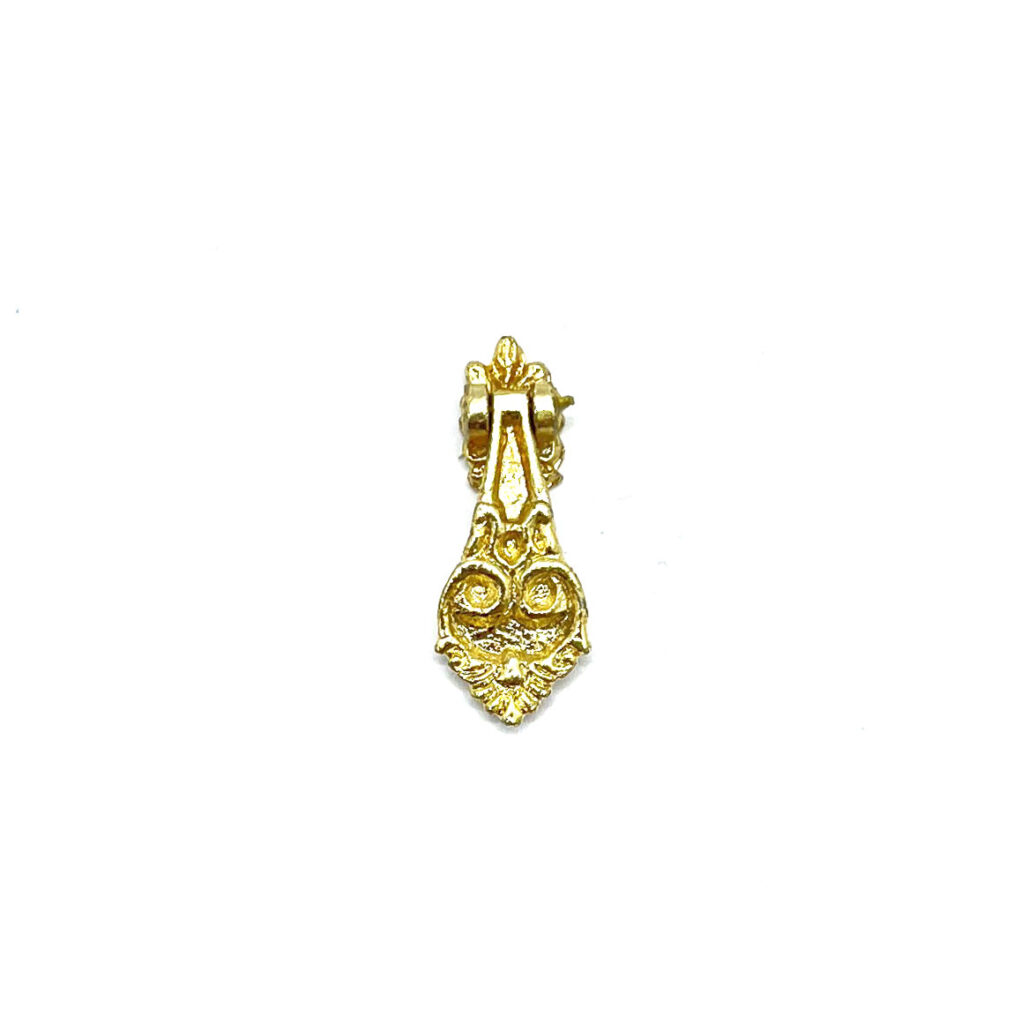 The Larkfield Door Knockers are personal favourites here at Sussex Crafts Miniatures. The high level of detail and shapes are reminiscent of the renaissance movement. Available in burnished black and gilded, this knocker can be used to decorate any style of dolls house from the Georgian period onwards. Available to purchase now for just £3.84
Tudor Period Door Knockers
One of our oldest door knockers is the Rosette Door Knocker, based on designs from the Tudor period in England. Roses became synonymous with the Tudor Dynasty following the infamous War of the Roses. Door knockers such as these can be found at some of Great Britain's grandest and oldest houses. More commonly found throughout the entire Tudor period was the twisted rope design. Our Tudor Door Ring is a near perfect replica of this door knocker.
We hope you found this guide informative and useful. We're planning to write more of these guides over the coming weeks. If you have any more information to share with us, please get in touch with us at info@sussexcrafts.com
Thanks for reading! We hope to see you again soon.